Remembering your past lives are part of your spiritual awakening and development if you choose to take it further.  Most of you have been on this earth multiple times. If you are awakening to your natural spiritual essence, beginning to see the holograms of your existence is simply part of this waking dream you have found yourself in once again.
As our channel began to awaken, she had many past life memories. At first she tried to deny them out of what she had been falsely taught in religion. The idea that you only live once and must do it right the first time is not accurate. If you have been raised with such beliefs you may be suddenly shaken by these visions or dreams. Having this recollection is a jogging of the subconscious to help you to begin the remembrance stage of awakening to spirit.
Do We See Anyone We Know?
It is very possible to see those close to you as part of these memories. Family members and very close friends have been incarnating with you for many lifetimes. You will be shown the reflection of your relationships through these memoirs.  If you have always had a difficult relationship to someone, the pattern of that relationship will be revealed in these past life recalls. Likewise, you will see the closeness of a loved one that you have an affinity for.
How do these memories surface?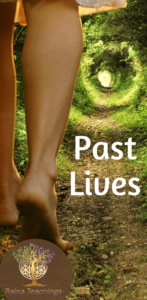 They are often spontaneous and happen in a dream state or waking vision when you least expect it. They can also be triggered or brought up by working with them directly in meditation. If your intention is to see a past life and work with it, asking for it will create an opportunity to see one. Specific meditations are quite helpful in surfacing these subconscious channels of information. Our channel first had her memories while sleeping.
How is recalling past lives part of spiritual development?
If you choose to work at your spirituality to develop it more, past lives are a very imperative piece of your higher self and will need to be accessed for healing and creating wholeness within your framework. Your past lives are not something that happened and are no longer happening. They are currently active, living beings that exist in a reality that is very real. It is just now in a spirit reality, rather than a physical reality. Anything you have done or been in your past lives on earth are still affecting your soul agreement and consciousness.
Visiting a past life with the intention of healing a pattern you've found you carried over into your current life would be the purpose of this. We also will not blame a past life for our current circumstances. We see this amongst those who still like to blame. "Oh well, this happened in a past life so………". This is a mistake. The beauty of being able to visit the past is to recognize a pattern and do the work to change it. It does not mean you are destined to continue to repeat this. Remember, each lifetime is a new opportunity. You still have free will and will make new choices.  The energy of influence of the past life will be present and that is the diamond you are looking for.   
Can we see any lifetime we want?
Yes and no. If you want to see past lives for the sake of seeing past lives this may not serve you. Your past lives are accessed by your higher self. If your higher self does not see the importance or purpose of a lifetime they will not release it to you. What you are working on in this lifetime applies only. Your higher self will show you what concerns your current workings and that is all.
Will I see anything bad?
If there is trauma or something you did that was hurtful then yes, you will see it. It will come up so you can again, heal it. The purpose is not to see a show but to work with what you see. If your consciousness is holding a traumatic event, it can block your creativity. Letting it come up will free your soul space so you can create freely.  We do not look at it as a bad thing. It is a necessary thing to continue the unfoldment of universal truth and love.
Past Lives are another part of the truth and wisdom you hold. They exist in your soul and want to connect with you so you may know you are a multi-dimensional growing consciousness. When you combine your current energy with that of the past in a healed working relationship, you are weaving wholeness into a much larger web of awareness. You walk awakened and are no longer asleep in this dream.
Love is sent without constitution dear physical angels.
-Raina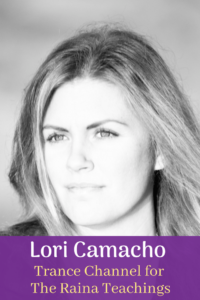 Trance Channel, Clairvoyant Healer and Spiritual Teacher, Lori Camacho, has been serving others with her gifts of clairvoyance and vibrational healing abilities since 2003. It was in 2007 that Lori began to spontaneously vocalize Raina, the wise consciousness she had memories of communicating with as a child. Together Lori and Raina have created many workshops, classes and writings.