I thought having a baby was one of the most transformative times in my life……until I hit 41 and began experiencing this new thing I'd never heard of:  Perio-menopause. Before I knew it, I was bleeding 25 days out of the month, my kids were all older and I was facing a mid-life crisis at what I thought was 10 years too soon.
It made me reflect on my past, starting at the time of my adolescence.  This female thing had never been easy. I had very heavy cycles, a lot of pain, miscarriages and a pre-mature baby. My uterus was clearly done. The year before everything led to this surgery I knew I was in for a big growth year. I decided I wanted to step out even more with my channeling, my husband and I bought another metaphysical bookstore and I could feel "change" in the air. 
My higher self began regularly preparing me for what was coming. I very clearly heard that I would be going through menopause early. I'm used to getting premonitions about life changes but I didn't think they meant now. Within 3 months I was skipping periods. I also felt the need to get busy with healing. As in, myself. I knew somehow that it may end in surgery instead of going through menopause for years.
After about 8 months my hysterectomy was scheduled. I looked forward to it in a way but it got me thinking about this transition and how so many women go through it. It's a rite of passage of it's own and one of the best times of spiritual growth.
The metamorphosis I encountered and am still not all the way through was worth the surgery. As younger women we aren't really prepared for this. I know for me, I passively heard my mom and her friends talk about their hysterectomies but it didn't occur to me that I might have one some day.
Now, in terms of health I was kind of just mad at myself. My mom wasn't very healthy. I have spent a lot of time on educating myself about natural health, avoiding certain things and still I found myself here. After having children and being focused on kids and my work, my weight climbed and I know on a physical level that contributed.
What was more fascinating to me was the spiritual awakening that was accompanying the process.  I had a major awakening earlier in my life and definitely developed my spirituality. It was time for another so that I could go through this next rite of passage: Hysterectomy. It's not menopause, I thought, but it's definitely part of it.
If you are here, be gentle with yourself……
You may find yourself reminiscing and crying about things that happened a long time ago. This is part of it. Grief. Grief you may have never felt. Feelings you should have had but didn't because you were busy with babies, kids, husbands and everything else that took away from your own self-care.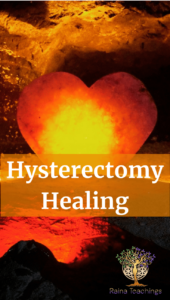 I became angry about things I thought I'd put in the past. I also felt this overwhelming need to create change. Real change. There's things about my work and my personal life I just wasn't willing to continue doing the same. Spirit was calling for my soul to step further into my purpose. They were using this as an opening for me to see myself, my shortcomings and take the steps to create the future we'd been working towards.
This website you're on was a result of that change. After 15 years working with people in person, I wanted to write and reach out to people in a bigger more expansive way. Boy was I unprepared for how afraid I really was of that.
This change triggered my fear and pain of many things. Raina and I created the Hysterectomy Healing Meditations to help me prepare for this journey. I also worked with my spirituality in a variety of other ways. I don't just channel and teach spirituality. I also go through these things myself and do each and every one of them before they are presented to anyone else. I began my healing process again as I have during other very significant life changes.                                      
Here is a list of some changes and feelings you may become aware of leading up to and even after your hysterectomy plus some suggestions:
1. Concern for your Health- You may feel the need to become healthier. Such as food choices, exercise and even healthier emotional choices with relationships.
2.  Irrational Feelings– You may feel sad, angry or out of control about your life, where it is and maybe some choices you made long ago. It's okay, feel what you need to feel and cry it out. Healing is happening. These feelings don't have to make sense or be about anyone else. You may feel broken inside, let down by your own body system and grieve what would have been a more natural menopause. If you kept your ovaries, you will still have part of that process. If not, embrace menopause and the feelings that come with it.
3.  Spirituality- you may feel the need to pick up your spiritual practice where you once left off, or learn to meditate for the first time in your life. You may notice your own intuition becoming stronger as a response to your changing body.
4.  Boundaries- You may want stronger boundaries with your partner or friendships. You may feel more internal and need to ask for that time to process and be with yourself.
5.  Career Change- Is there something you've always wanted to do? You may decide a career change or going back to school to learn something more impactful for yourself and others is in order.
6.  Self Improvement- Overall self improvement is a key component of this change. You may take up a yoga class or something that you've always felt could benefit your overall well being.
7.  Ceremony- Create a ceremony for yourself. I did this privately in my backyard and it was great. The full moon hit about 3 days after my surgery. I was able to go outside by then. (very carefully) I created an oil to help my scars on my belly heal and set some strong intentions for healing and creation. Then I sat in my garden and cried. The vulnerability for me in nature was necessary to my healing. We are part of mother nature. So it only seemed right to let the earth hold my healing body.
I may write some other posts on this as my own healing progresses. I'll say for now that this is a process and may take up to a year to be able to really feel complete. Enjoy the changes that come as a result and do what you need to move forward and embrace this rite of passage.
Our guided meditations for Hysterectomy Healing can be helpful emotionally to the overall process no matter where you are in it.
In Love,
Lori Camacho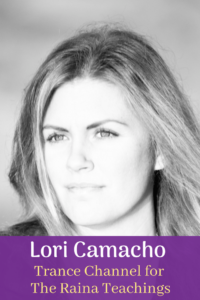 Trance  Channel, Clairvoyant Healer and Spiritual Teacher, Lori Camacho, has been serving others with her gifts of clairvoyance and vibrational healing abilities since 2003. It was in 2007 that Lori began to spontaneously vocalize Raina, the wise consciousness she had memories of communicating with as a child.  Together Lori and Raina have created  many workshops, classes and writings.