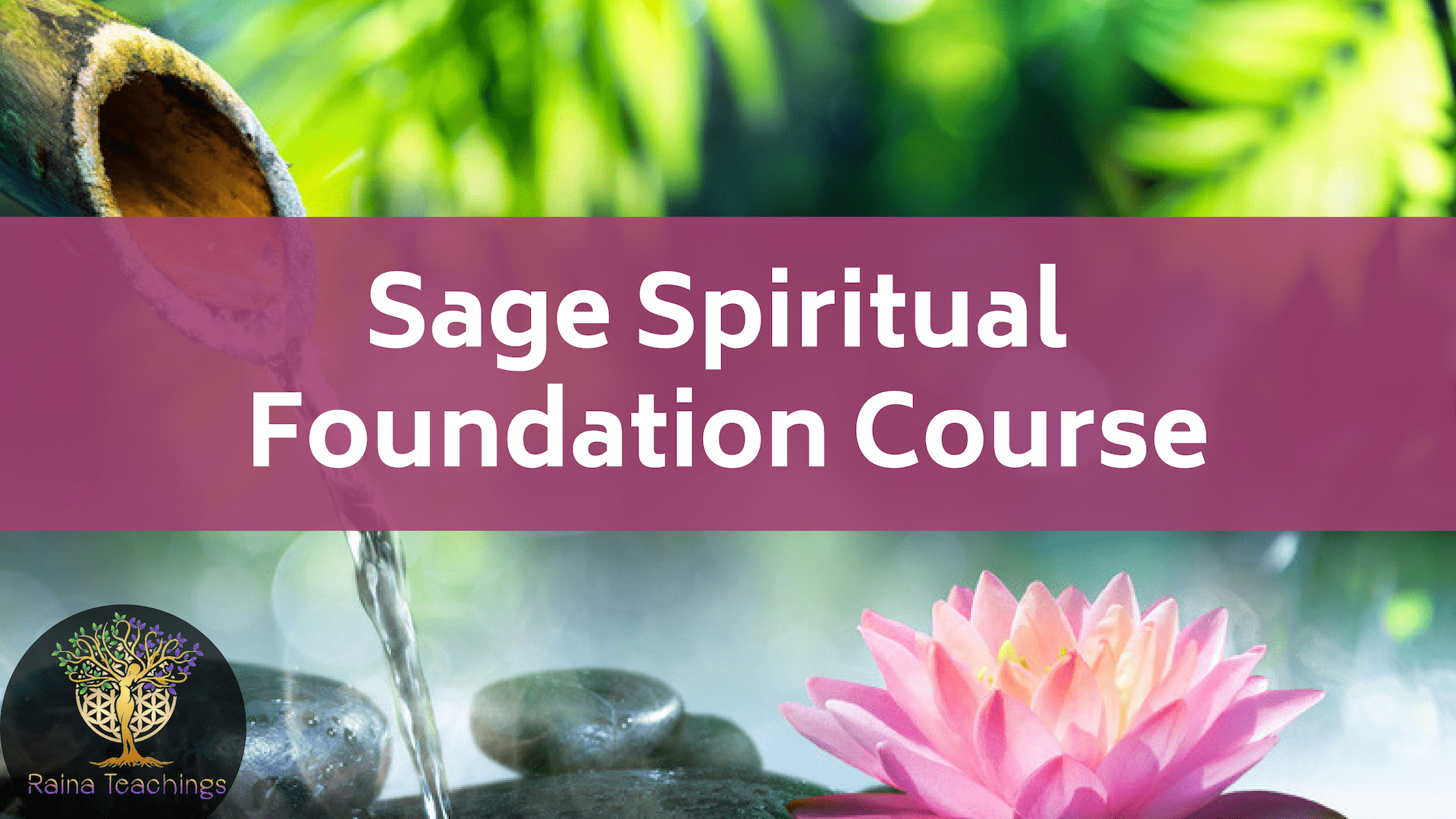 Sage Spiritual Foundation Course
This course is for you if you have already worked with beginning meditation but are now seeking more out of your practice or are ready to move into a more in depth process.
Raina's Sage Foundation Course begins your journey into deep exploration of consciousness and is considered a necessary foundational study for those seeking the roots needed to ground their spiritual experiences and begin a path towards personal empowerment or professional metaphysical work. Get the course here.
"This is a journey into your higher self, the most important part of your spirit connection." – Raina
Here, Raina guides you to the parts of self that need healing, love and connection. Learning to navigate these "part realities" helps tremendously with healing wholly and bringing consciousness into more advanced processes such as Clairvoyant sight, Channeling, Medium-ship and Healing. 
The Sage Foundation program essentially creates a more conscious person that is ready to develop more advanced practices. This is a pre-requisite to the more advanced programs.  You do not have to want to do this work professionally to participate in the Sage Foundation program. It is extremely beneficial towards enlightenment and personal growth.
My favorite Chinese proverb is: "When the student is ready, the teacher appears." Raina used to say this to me long before I knew who she was or that my spirituality would become my way of life. This proverb is exactly right…
When a person becomes ready to open up to their spirituality in a serious way, a teacher is a necessary component to that person's path.
Without my teachers, both Inner Spirit and Human, I would not be the Trance Channel or Spiritual Teacher that I am. During my awakening, I was in pain, scared, confused and just needed healing.
I had no idea I had a career as a Trance Channel, Clairvoyant, Healer or Spiritual Teacher waiting for me. As amazing as that may sound, it was a lot of work and I really had to dig deep. I was confused as to who to go to, what to study or if I'd ever feel better.
At the time, I made a promise to myself. That if I figured this out, I would teach others how to overcome the struggle and pain that is sometimes associated with awakening. 
The universe, my higher self and Raina responded to that need with the perfect teachers for me.
Now, many years later, I have the greatest pleasure of my life; to fulfill my purpose and BE that Spiritual Teacher YOU are looking for.
This course and community was born out of that struggle. I found that a lot of teachers were teaching the "how to" with spiritual skills, but were not teaching the healing and deep soul connection that is vital to becoming a more open spiritually based individual. Through many years of searching and discovery, Raina taught me that there was a foundation and a particular order to how we awaken. 
Once Raina revealed herself and my channelling became a constant everyday reality for me, we got to work and created the Sage Spiritual Foundation Course. For thirteen years Raina and I taught this course in person. This program was close to one year long when we provided it in person.
Raina guided many people through their awakening process and have seen beautiful transformations. She also helped to create a wonderful community of healers, teachers, intuitives and people who truly live the path of awakening. Join our community of global healers…..
Who This is Not For
Spirituality is a process. There are a lot of programs out there that say you can become an expert in a weekend. Your spiritual path is not and should not be one of these things. Learning, growing and becoming spiritual is something that takes time, perseverance and focus. If you are wanting a program that cuts corners, gives unrealistic promises or deems you spiritual because you bought their course, Raina and I are not the teachers for you.
Hear what a past student has to say about her experience working with Raina and the Sage Spiritual Foundation Course:
What You Will Receive Inside The Sage Spiritual Foundation Course
Online, this is a self paced course that can be done in 7 weeks but is a life long tool that can be used over and over again. You will have lifetime access and can re-visit the course anytime in your account. I still do many of these meditations myself as my healing arises. 
A lifetime membership to Raina's private Sage Alchemy Facebook Group where you can ask unlimited questions, receive healing, work with others on this path and be a part of a working global network of healers assisting each other and the planet. 
Monthly online Q&A with Lori and Raina is also included where a majority of your processing of the work will go on. This monthly group meets for 4 months at a time, takes a break, and then meets again for another 4 months.   You can attend the processing group or watch the archived videos.
Overview of What you Receive
A Self Paced Course that is downloaded in your account in 7 Weeks Time
Lifetime membership to our Sage Alchemists Private FB Community
Monthly live Q&A Online with Lori and Raina 
Lifetime access to the Sage Spiritual Foundation Course
A lifetime Membership to a Working Global Community of Healers
30 Minute Awakening Session with Lori Camacho